Access Control

THE BATTERY-POWERED IoT SENSOR THAT ALLOWS YOU TO ENABLE THE SECURITY 4.0 SYSTEMS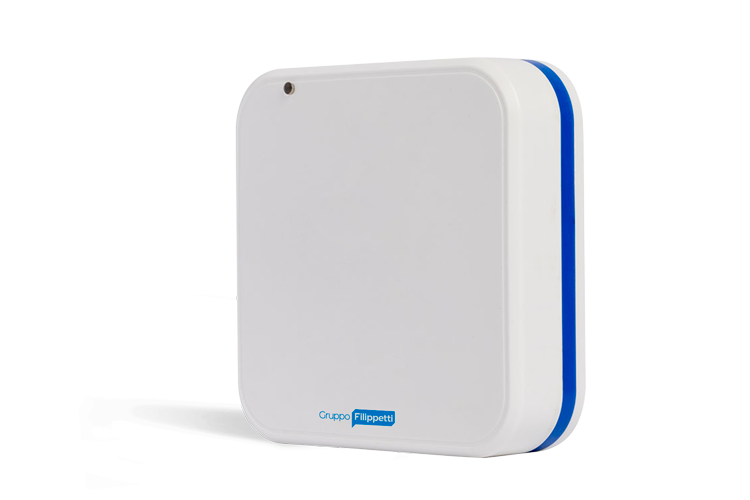 GENERAL OVERVIEW
This device, powered by long-life batteries, is non-invasive and easy to install and allows the creation of access control gates. Its operation requires integration with the Smart Network and the IoT Smart Platform of Filippetti Group.
The device increases the security of spaces through monitoring and access control.
MAIN ADVANTAGES
Quick and easy installation – the battery power supply eliminates wiring, making it the ideal solution in many environments
Lightweight and durable – made of ultra-resistant plastic, the device is light and guarantees high protection against ingress of dust and of liquids.
OPERATING PRINCIPLES
COMMUNICATION: SMART NETWORK PROTOCOL
This device communicates the information contained in the RFID cards to the Filippetti Group Gateway using the proprietary Smart Network protocol by means of UHF wireless communication (LoRa/FSK modulation).
READINGS: CARD RFID
The device is able to read the information contained on the RFID cards (supported models: MIFARE Ultralight®, NTAG203, MIFARE Mini, MIFARE Classic® 1K, MIFARE Classic® 4K, FM11RF08).
ACTUATION: OPENING
When integrated with the Filippetti Group IoT Smart Platform, the device is able to automate the openings of the passage on which it is installed. The data is transmitted to the proprietary platform, which is responsible for verifying any authorization to access the area of interest. Furthermore, it is necessary to prepare a dedicated implementation system (opening of the gates), capable of intervening in the event that access is allowed.
POWER SUPPLY: by BATTERY
The device is powered by 3 AA batteries (2.2 Ah each, nominal voltage of 3.6V). If operating in standard mode (dependent on use case) it can guarantee an average life of 3 years.
Do you need to develop a specific solution based on our products?