Anchor UWB ATEX
CREATES HIGH-PERFORMANCE AND RELIABLE LOCALIZATION INFRASTRUCTURES ALSO IN AT-RISK OF EXPLOSION USED AREAS.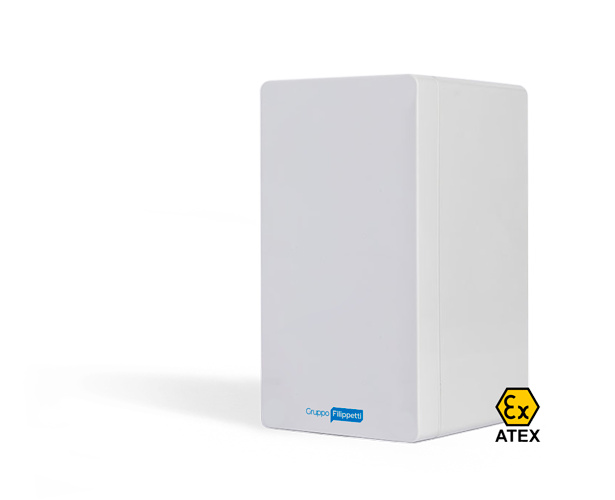 GENERAL OVERVIEW
The device is the 3D spatial reference node (with a known position) of the Smart Network and is responsible for receiving information from tags worn by people, or positioned on objects and assets in at-risk environments (Oil & Gas, Chemical, etc.).
MAIN ADVANTAGES
Lightweight and easy to install – the low weight, the small size and the long battery power supply make it easy to install in any context without the need for wiring, ensuring time and installation cost savings. The Anchor is generally fixed on the walls that define the perimeter of the area to be monitored and placed in a high position, to cover the maximum extension and avoid any obstacles that could block the signal.
Suitable for any scenario – The device is designed to be used in outdoor environments (IP66 degree of protection) and indoor, and does not require additional protections, being made of resistant and durable self-extinguishing plastic material. It is also ATEX certified for use in explosive atmospheres.
OPERATING PRINCIPLES
COMUNICAZIONE: SMART NETWORK PROTOCOL
The UWB Anchors communicate with the Filippetti Group's Gateways (or Routers) using the proprietary Smart Network and wireless UHF protocol and in LoRa/Fsk modulation.
LOCALIZATION: UWB
The system is part of the Ultra-Wide Band (UWB) tracking infrastructure, and makes it possible to measure the distance with compatible devices (e.g. SaveMENOW), through the precise flight time (Time of Flight – ToF) of the radio signals, in unicast mode. Through the trilateration (i.e. with three or more distances detected by as many devices), it is possible to calculate with sub-precision accuracy (≈ 50cm) the position of the SaveMENOW tag or the PPE connected to the tags. The data exchanged between the anchors and the mobile tags are sent to the RTLS server (Real-Time Locating System) to estimate the position.
POWER SUPPLY: by BATTERY
The device is supplied with 4 batteries (each of type D, nominal voltage of 3.6V, from 19 Ah), which guarantee an average life span from 1 (1 tracking per second) to 7 years (1 tracking every 15 seconds).
ATEX
ATEX certified device for use in explosive atmospheres.
IP GRADE
Suitable to operate in Outdoor and Indoor environments with a high concentration of dust and humidity.
LONG TIME BATTERY
Powered by long-life batteries (up to 10 years). The actual duration depends on the operating conditions.
REMOTE DIAGNOSIS
Device with diagnostics and remote reset in case of anomalies.
RTL
It allows real-time tracking of people, assets and materials positioned in the area covered by the SmartNetwork.
UWB LOCALIZATION
Support of the UWB protocol for the three-dimensional tracking of people, assets and materials, with a high degree of precision.
WIRELESS LORA
Equipped with LoRa wireless connectivity, which allows long-range data transmission and low power consumption.
Do you need to develop a specific solution based on our products?