Biaxial Inclinometer LoRa + FSK
STRUCTURAL MONITORING BECOMES EVEN MORE ADVANCED. A BATTERY-POWERED IOT DEVICE TO BUILD THE WIRELESS INCLINOMETRIC MONITORING OF ANY WORK AND INFRASTRUCTURE.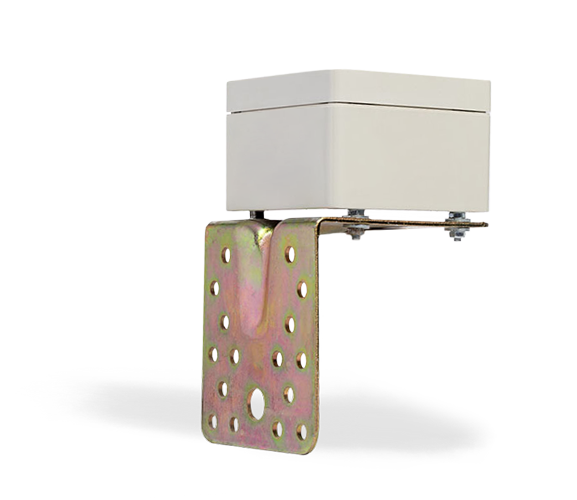 GENERAL OVERVIEW
The MEMS biaxial inclinometer of Filippetti Group is a wireless system, powered by long battery life, which allows to monitor structures of any nature affected by rotations and inclinations, such as parts of civil and industrial works, containment works, rocky walls and monumental buildings of artistic interest.
Its small size, together with its low invasiveness, allow its application in multiple scenarios. The device is supplied complete with the wall fixing system  by means of brackets to be anchored to holes made on the wall. The sensor has been designed to work long without the need for supervision.
MAIN ADVANTAGES
Accurate and precise – the inclinometer detects and provides accurate and precise data on the state of the structure, in a range of ± 15 °, with a good resolution of the data.
Ideal for use in many contexts – the long-lasting battery power make it ideal for performing inclinometer monitoring even in the most difficult environments.
ACCESSORIES
A support is available in the catalogue to make the inclinometer even more precise.
INK_S: inclinometer square
OPERATING PRINCIPLES
COMMUNICATION: SMART NETWORK PROTOCOL
The device integrates a UHF wireless module (with FSK + LoRa modulation), which allows bi-directional communication with a Filippetti Group gateway, through Smart Network proprietary protocol.
SPECIFIC MEASURES: INCLINATION
The device integrates a bi-axial MEMS inclinometer, which allows an accurate measurement of the degree of inclination of an object to which it is fixed, with a measuring range of ± 15 °, and a resolution of 0.0013 °
POWER SUPPLY: by BATTERY
The device is powered by 5 AAA batteries (1.5 V, 1.25 Ah each), which guarantee a 3-year average life (under standard conditions).
Do you need to develop a specific solution based on our products?