Luxmeter
A BATTERY-POWERED BRIGHTNESS SENSOR TO MANAGE LIGHTING IN AN EFFECTIVE WAY.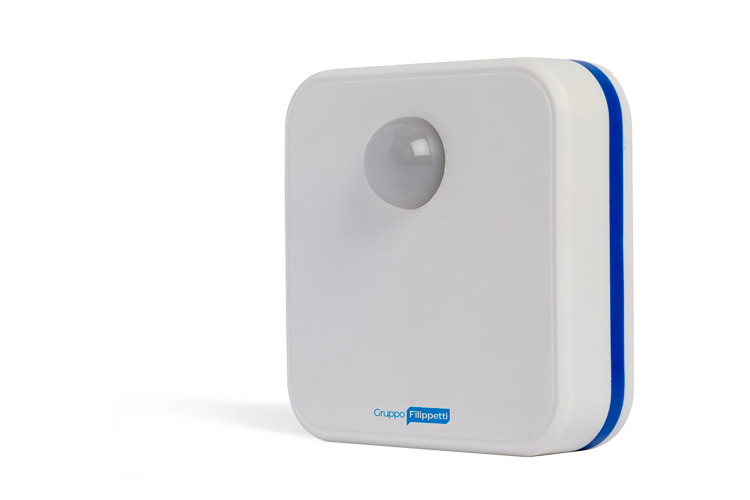 GENERAL OVERVIEW
Equipped with a photometric sensor and radio transceiver, and developed by Filippetti Group, this device is responsible for detecting the level of ambient lighting and communicating it (via wireless) to network data collection devices. The electronics on board are contained in a package of plastic material. The node is powered by a duration greater than 5 years under standard use conditions.
MAIN ADVANTAGES
Lightweight and resistant: made of ultra-durable plastic material, the device is lightweight and guarantees high robustness.
Simple and quick installation: the device can be fixed to the wall by means of adhesive plates or brackets.
OPERATING PRINCIPLES
COMMUNICATION: SMART NETWORK PROTOCOL
Through UHF wireless communication (LoRa/FSK modulation), and proprietary Smart Network protocol, with a Filippetti Group gateway it is possible to monitor indoor brightness values in real time via sensor measurement.
SPECIFIC MEASURES: INDOOR BRIGHTNESS
The device enables the measurement of the brightness level in indoor environments. The readings of the two photodiodes integrated into the device (one sensitive to infrared, one to visible light), are combined by means of an empirical formula, from which the value of the brightness level is obtained.
ACTUATION:
The sensor, alone, is not able to take action on the control of the indoor lighting. However, after the implementation of an integration architecture for lighting and actuator systems (e.g. dimmers), it is possible to use the measurement provided by the Filippetti Group sensor for Smart lighting control, and subsequent maintenance of visual comfort for the occupants and energy efficiency.
POWER SUPPLY: by BATTERY
The node is powered by 3 AA batteries, each of 2.2 Ah and with a nominal voltage of 3.6V, which allow an average duration of more than 5 years (albeit variable depending on the type of use).
Do you need to develop a specific solution based on our products?