Non-Contact Temperature Sensor
THE BATTERY-POWERED IoT SENSOR THAT ALLOWS YOU TO DETECT THE TEMPERATURE OF THE OBJECTS WITH EXTREME PRECISION AND WITHOUT DIRECT CONTACT.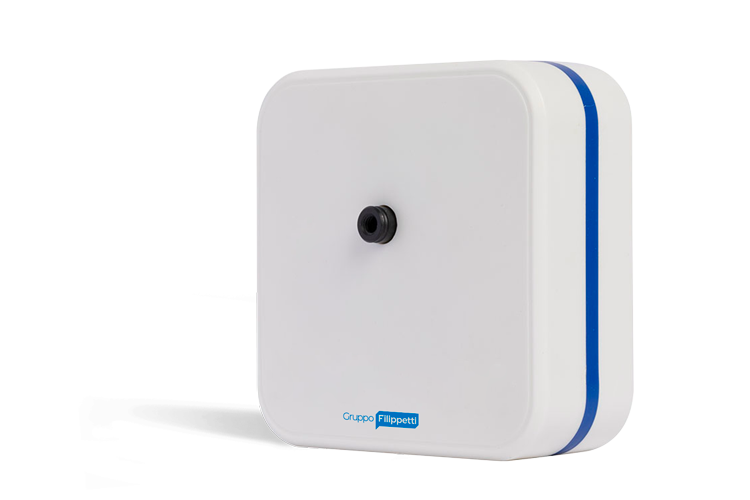 GENERAL OVERVIEW
The non-contact temperature sensor of Filippetti Group, as well as its comparable contact version, is able to detect the temperature of an object over a wide range of temperatures, in an accurate and reliable manner.
Taking advantage of the measurement principle in the infrared range (measurement of the electromagnetic radiation that any body with a temperature > 0°K emits), the sensor is able to detect and transmit the temperature of an object, analysed in a single point, with an accuracy of up to 0.5°C.
MAIN ADVANTAGES
Without contact: it allows the measurement of the temperature of objects and/or assets in extreme conditions, or if a contact measurement is not possible.
OPERATING PRINCIPLES
COMMUNICATION: SMART NETWORK PROTOCOL
Through UHF wireless communication (LoRa/FSK modulation), and proprietary Smart Network protocol, with a Filippetti group gateway it is possible to monitor temperature values of the body/object under analysis in real time.
SPECIFIC MEASURES: TEMPERATURE
Equipped with a single-point thermopile, with a FOV of 35°, the device takes care of measuring the temperature of objects and/or assets without contact. The system is supplied with the already calibrated sensor and with the entire electronics inside a plastic package equipped with a hole to allow the optics outflow.
POWER SUPPLY: by BATTERY
The node is powered by 3 AA batteries, each of 2.2 Ah and with a nominal voltage of 3.6V, which allow an average duration of more than 5 years (albeit variable depending on the type of use).
Do you need to develop a specific solution based on our products?