Parking Wireless
FUNCTIONAL AND ROBUST, PARKING WIRELESS IS AN IOT SENSOR THAT ALLOWS YOU TO IMPLEMENT AN ADVANCED SMART PARKING SYSTEM.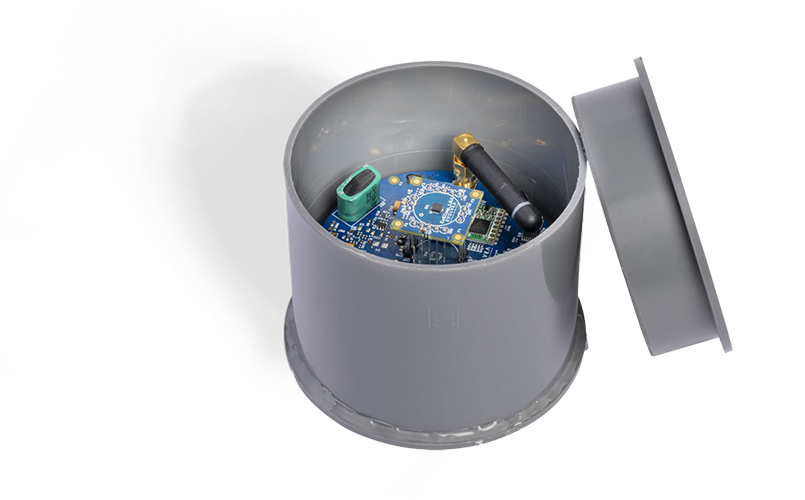 GENERAL OVERVIEW
The Parking Wireless sensor of Filippetti Group is a device with high performance and high mechanical durability that allows you to monitor the occupation of the car parks with extreme accuracy and identify the presence of vehicles placed above them. The node is powered by thionyl lithium chloride batteries and guarantees a mechanical life, durability of approx. 8 years.
MAIN ADVANTAGES
Robust and durable: thanks to the ultra-strong case and the high degree of protection against the ingress of dust and liquids, the sensor guarantees reliability even in the most adverse weather conditions.
Smart: the IoT sensor communicates with the SmartNetwork and the IoT SmartPlatform of Filippetti Group, thus creating a complete and advanced system for Smart Parking.
OPERATING PRINCIPLES
Equipped with RF antenna, magnetometer and radio transceiver, the sensor allows you to carry out the readings of the magnetic field by sending these readings to the router that is installed in radio range for the collection of the information.
In order to guarantee the necessary and the sensor is incorporated inside a non-magnetic package with plastic finish, and is anchored to the road surface by means of locking screws and metal gusset. In the version embedded in the asphalt, the sensor is inserted in a plastic casing.
The sensor is controlled by a 16-bit CPU capable of performing terrestrial magnetic field readings and managing the radio communications.  It also has an autonomous supervisory circuit that can reset the apparatus in case of abnormal operation.  The monitoring of the operation and the management of the sensor can be carried out both remotely and on site.
BATTERY POWERED
Battery powered device that eliminates the need of wiring, allowing installation even in large and complex environments.
IP GRADE
Suitable to operate in Outdoor and Indoor environments with a high concentration of dust and humidity.
LONG LIFETIME
Average lifetime from 10 to 15 years, without maintenance.
REMOTE DIAGNOSIS
Device with diagnostics and remote reset in case of anomalies.
Do you need to develop a specific solution based on our products?