PIR Sensor
THE BATTERY-POWERED IoT PLUG&PLAY SENSOR TO CREATE EFFECTIVE SECURITY SYSTEMS.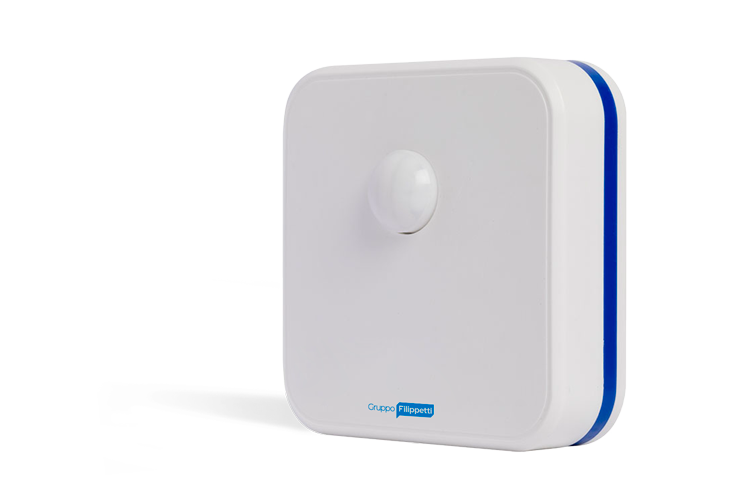 GENERAL OVERVIEW
The PIR sensor allows the detection of people or objects moving in a 12 m cone with extreme precision and in real time. Thanks to the long-life batteries and its easy installation that eliminates the need for wiring for power supply or data transmission, the sensor is ideal for enabling scenarios of Security 4.0 in multiple contexts.
Any actuations can be managed/piloted on the software side (e.g. IoT Smart Platform alarms), and by third-party actuators (e.g. sirens, PLCs or lighting control systems).
MAIN ADVANTAGES

Precise and accurate – the sensor makes it possible to detect objects in an extremely precise manner, with a horizontal detection angle of ± 51° and a vertical angle of ± 46°.
Additional information:
To ensure the correct recognition of the passage of an object in the PIR detection cone, the temperature gradient (i.e. the difference between the temperature of the object and that of the surrounding environment) must be greater than 4°C.
OPERATING PRINCIPLES
COMMUNICATION: SMART NETWORK PROTOCOL
The device is able to communicate bidirectionally with the Filippetti Group gateways, through a proprietary Smart Network protocol and UHF wireless communication (LoRa / FSK modulation). The information sent to the IoT Smart Platform can then be used to enable different application scenarios, for example in the Safety area (violated areas, etc.).
TRACKING:
The PIR sensor notifies any passage of people or objects in its monitoring area. If properly configured, it can provide information on the presence of people in certain areas (e.g. in the Safety and Security context), but does not allow precise tracking, nor discrimination of the person/object being detected.
SPECIFIC MEASURES: PRESENCE
The sensor is able to detect temperature variations in the form of electromagnetic radiation in the infrared spectrum (emitted by any body at a temperature > 0°K). When a person/object passes, this radiation is picked up by the sensor, thus altering its normal state and activating the detection.
ACTUATION:
The PIR sensor deals exclusively with detecting the passage of people and/or objects, and transmitting the data to the Smart Network. Optionally, the PIR is able to trigger a magnetic beacon of Filippetti Group without passing through the IoT Smart Platform (Virtual Gate functionality).
POWER SUPPLY: BY BATTERY
The node is powered by three 2.2 Ah batteries, each with a nominal voltage of 3.6v, which allow an average duration of 3 years.
PRINCIPALI CARATTERISTICHE
Hai bisogno di sviluppare una soluzione specifica
basata sui nostri Prodotti?