REED Sensor
A BATTERY POWERED SENSOR MONITORING IN REAL TIME THE DOOR AND WINDOW OPENING AND CLOSING.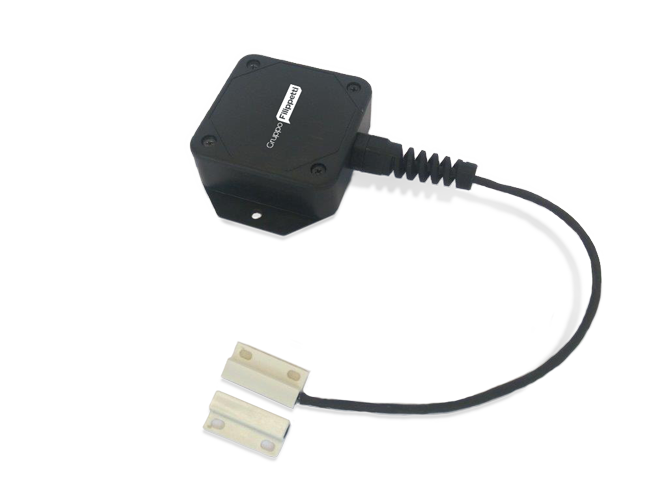 GENERAL OVERVIEW
The Filippetti Group Reed sensor consists of a passive component, equipped with a magnet, and an active one, equipped with on-board intelligence for reading the contact status (proximity to the passive part). The detected data is transmitted to the IoT Smart Platform.
This sensor can also be used in more advanced contexts, for example in the field of Security 4.0 (access control) and Smart Building (window opening monitoring for energy efficiency assessments).
MAIN ADVANTAGES
Easy installation: its small size and the absence of wiring make it usable in any context.
Smart City scenarios:the sensor is particularly suitable for monitoring road closures (manholes), increasing security and safety in Smart Cities.
OPERATING PRINCIPLES
COMMUNICATION: SMART NETWORK PROTOCOL
The device is able to communicate bidirectionally with the Filippetti Group gateways, through proprietary Smart Network protocol, and UHF wireless communication (LoRa/FSK modulation). The information, sent to the IoT Smart Platform, can then be used to enable different application scenarios, for example in the Security area (opening / closing doors and windows).
SPECIFIC MEASURES: CONTACT STATUS 
The sensor supplies at the output a digital signal, related to the contact or not between the passive and active part of the Reed sensor, correlated with the opening and closing of the door/window.
ACTUATION: OPENING/CLOSING DETECTION
The Reed sensor only deals with measuring the contact status and transmitting the data to the Smart Network. Optionally, the sensor, appropriately integrated with other elements of the Smart Network architecture and third-party devices (e.g. alarms) can be used in more advanced contexts (e.g. security).
POWER SUPPLY: by BATTERY
The device is powered by 2 2.2 Ah batteries each, with a nominal voltage of 3.6V, which allow a longer average life, in standard conditions of use (150 opening / closing events per day), up to 5 years.
Do you need to develop a specific solution based on our products?