Streetlight Control
MAKES THE ROAD LIGHTING MANAGEMENT MORE EFFICIENT. ENABLES IoT SCENARIOS FOR THE SMART CITIES OF THE FUTURE, NOW.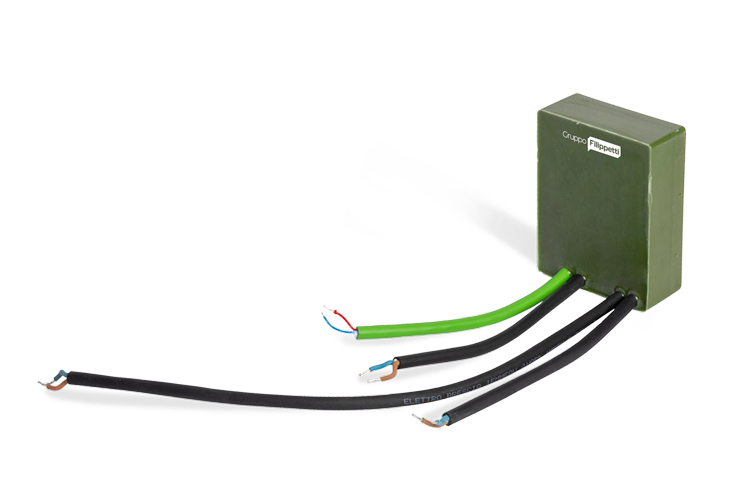 GENERAL OVERVIEW
The Streetlight Control of Filippetti Group allows you to switch on, switch off and control (dimmer function) the brightness of a LED street lighting, via bus 0 – 10 V (or I 2 C, after customisation). It also makes possible to provide an estimate of energy consumption, starting from current measurements.
Entirely resin coated, the device is installed inside the luminaire to ensure intelligent management of the LED lighting system.
Streetlight Control has the ability to store a set of actions, and manage them through a calendar-based internal scheduler.
Finally, this technology also becomes a node of the Smart Network and allows the transmission of information from field sensors of Filippetti group through other Streetlight Controls, in the absence of direct connection with a gateway (Smart City context).
MAIN ADVANTAGES
Robust and durable – the complete resin coating of the external case ensures excellent heat dissipation and a high degree of protection against the intrusion of dust and liquids, thus guaranteeing maximum performance and high durability.
Multiple functions – the device guarantees communication with the Smart Network even when the mains voltage is absent, i.e. when the internal battery is.
OPERATING PRINCIPLES
COMMUNICATION: SMART NETWORK PROTOCOL
The Streetlight Control by Filippetti Group makes each lamp a node in the mesh Smart Network, as it is equipped with a UHF wireless module. Through integration with the IoT Smart Platform, each lighting fixture becomes an "intelligent" point, a vehicle for information coming from field sensors, which can be shared with third-party devices in order to create an interactive Smart network and thus enable the scenarios of the most modern Smart Cities.
SPECIFIC MEASURES: CURRENT
The Streetlight Control is installed inside the street lamp and is able to measure the current absorbed by the LED lighting fixture. Moreover, thanks to the intelligence on board the IoT Smart Platform, it is also possible to obtain a real-time estimate of the energy consumption of the monitored equipment, starting with the current measurements.
ACTUATION: LIGHT CONTROL
The device can turn the lamp on/off and is able to adjust the light intensity by means of a dimmer system.
Specifically, the terminal can be connected in different ways:
directly to the mains power supply (for on/off functionality),
for the ballast (for dimming, using the 0-10 V protocol),
between the ballast and the lighting fixture (to measure the current absorbed by the appliance),
with I2C buses to third parties (to adjust the level of light intensity or to send and/or receive information).
POWER SUPPLY: CONTINUOUS
The Streetlight Control is installed inside the lamp body and powered with 220 V. However, in case of power failure, the device can run for a few days (approx. 3) using the installed backup battery (rechargeable).
Do you need to develop a specific solution based on our products?